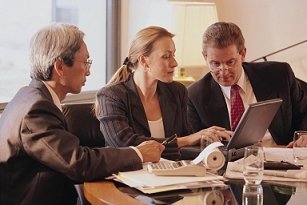 The One-A-LOG® Voice recording system is an extremely cost effective tool and is ideally suited for recording telephone and office conversations, or any kind of meeting directly onto computer.

This phone conversation recording system is capable of recording one telephone line onto desktop/laptop by virtue of a direct hardware connection between telephone and computer. Incoming signals pass through a telephone line monitor (TLM) interface and are recorded onto the hard disk drive. The program can also function like a "tape recorder" by recording office conversations or meetings directly onto a freestanding laptop/notebook computer. Voice recordings of short duration can be retrieved and E-mailed as an attachment because of non-proprietary compressed file recording format.

The Recording system is extremely easy to operate and retrieval of calls from hard drive is efficient and straightforward. No exceptional computer skills are needed to operate the system.

Click Here for a Screenshot of One-A-Log® Recording System
One-A-Log® is a multimedia application and thus requires a sound card and computer with sufficient performance specifications.
Digital logging technology offers advantages in data security, data preservation and retrieval. Whilst on hard disk, recordings are available on-line. Archiving to long-term media is a manual process. With multiple units, and a network capability, logging capacity is virtually limitless.
One-A-LOG®:
| | | |
| --- | --- | --- |
| | | Is a digital voice logging system, which records telephone and office conversations and was developed in South Africa, |
| | | Is not dependent on any specific switch / PABX, due to the fact that it makes use of a Telephone Line Monitor (TLM), |
| | | Can record Digital and Analogue lines, |
| | | Logs conversations 24 hours a day, 365 days a year, |
| | | Has on-hook, off-hook detection capabilities for analogue lines, |
| | | Records in MP3 file format. |
| | | Runs on Windows 98, NT, 2000 and XP |
| | | Stores voice files at a central location or could be de-centralized in a Local Area Network (LAN), |
| | | Starts automatically when the PC starts or reboots. There is no human intervention needed to start the system in the event of a power failure, |
| | | Has the option to delete a recording with security permissions, |
| | | Could be installed on a standard PC / Notebook currently in your office, |
| | | Is based on desktop / laptop PC technology with loudspeakers or headphones, |
| | | Displays all recorded conversations and allows it to be "played" through the PC sound system, |
| | | Search engine can retrieve conversations between a specific date and time, displaying incoming or outgoing calls, search by unique-ID, Customer telephone number, customer File (or Client) number or by specific words entered into the conversation details field, |
| | | Is regarded as a Telephone Management System (TMS) due to the fact that it records all in-and-outgoing calls duration, date, time and telephone number dialed, |
| | | Can create, save, retrieve and print reports, |
| | | Displays the exact locations of all recorded conversations, |
| | | Records in non-proprietary compressed format which enables you to E-Mail the conversation to any disputing party, |
| | | Has the capacity to integrate with portable tape recorder or Dictaphone to store recordings in MP3 format, |
| | | Uses less than 1 % of computer's resources with current entry level general basic computer specs, |
| | | Is rented out to make it easily affordable. Rental includes a Telephone Line Monitor (TLM), the Software and any upgrades during the rental period. |
SmartVoice(Pty) Ltd. offers additional products such as Soundcards, Microphones or amplified microphones, should this be your requirement.
Provision and supply of large volume call center grid loggers can be arranged on request.
Recommended Hardware Requirements:
| | |
| --- | --- |
| System: | Intel Pentium 2 |
| Memory: | 64 MB RAM |
| Operating System: | Windows 98, XP, 2000, NT or higher |
| Free Space: | 200 MB free disk space |
| Sound System: | Creative Sound Blaster or compatible sound card, capable of Line / MIC input recording as well as speakers and microphone for office recording requirements |